Such display cabinets, as glass display cases and retail showcases, are often built to present merchandise in gift shops, retail stores and boutiques. Most of these glass display cabinets, designed for commercial use, include several important features that are essential for theft prevention, damage control, as well as ease of use.
1. Wall Mounted Display Cases
Wall display cabinets bring sales items up to the customer's eye level, opening up floor space to include other store fixtures, like stand alone towers or other display cases. Using different styles of showcases can easily outfit an entire location. In many contemporary retail spaces, the top selling cabinets are those with silver and black finishes, because these unobtrusive shades allow the items on display to be the primary focus.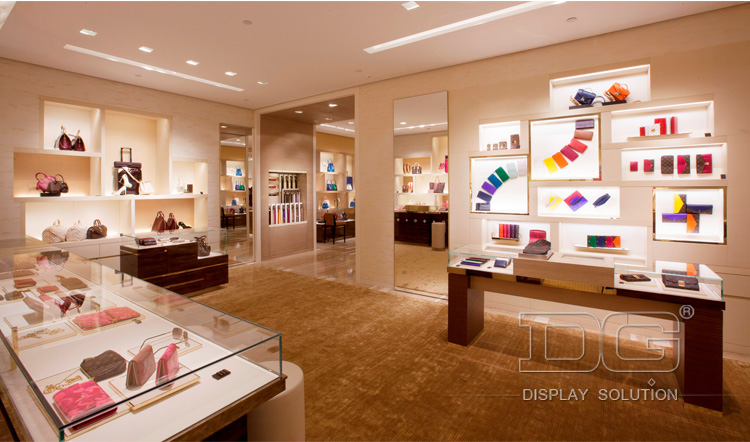 2. Stand Alone Towers
Stand alone display towers are full vision, which enables them to be placed in the center of a room and have its contents be visible from every angle. These glass display cabinets are offered in square, hexagonal, or round styles and feature a modern, contemporary design. Retailers can choose one of each shape; all are modernized looks to suit gift shops or high-end boutiques. The fact that they can stand alone in any section of the store's floor utilizes the space to its optimum potential. These commercial showcases also successfully free up wall space for artwork, other point of purchase displays, and/or store fixtures.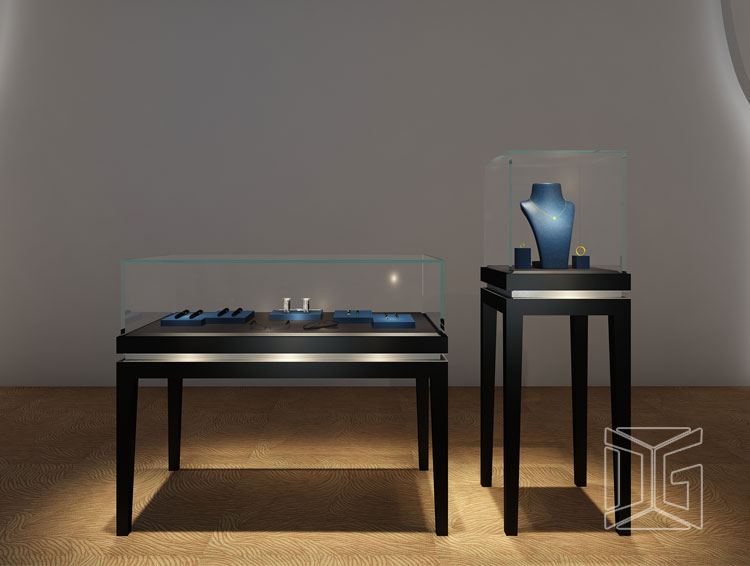 Commercial showcases, also called wall mounted display cases and stand alone towers, are equipped with accents and features designed to enhance the area, and accentuate the products for purchase. Such features include halogen top lights, plus additional side track lighting for dimly lit areas. Furthermore, these glass display cabinets are easy to use for store owners, managers and sales associates alike. Security devices, damage control and easy to use features, like tempered glass construction with adjustable shelving, plunging key locks, rubber padded shelves, and on/off switches, make things go smoothly for workers and customers. If by chance tempered glass breaks, it is less likely to injure a customer or sales associate because it is designed to break without shattering. Several wall cases also come with mirrored backing which gives the illusion of more space in the case, as well as additional illumination. Additionally, even when the showcases are mounted to the wall, the displayed products are fully visible due to a full 360 degree view provided by the reflection in the mirror. As an added bonus, many of these cases come pre-assembled, therefore setting up a store is simple. Retailers just fill them with merchandise and display as needed.
Display cabinets built for commercial use, are not only a highly functional means of displaying sales merchandise, but they also enhance the look of the store's showroom floor. These glass display cases and retail store fixtures offer a safe, secure space in which to present gifts and collectibles, while playing a major role in decorating the store at the same time.