According to the assessments of celebrated retail marketers, visual merchandising is not a science. It can be more easily associated with an art form where rules are manipulated and altered frequently. Therefore, there really isn't any correct way of doing it. It is largely product and need specific. Each element would have to be selected in tandem with the specific needs of the product and the associated infrastructure you have. For instance, if you are looking to purchase display fixtures for showcasing garments, they have to cater to some specific needs.
When it comes to garments, the first thing which comes to mind is variety. Ideally, you should be able to provide for display fixtures which can accommodate numerous options, thus facilitating effective choices. Similarly, different garments would also require specific styles of showcasing. Your display fixtures should be able to accommodate the same as well.
Aspects to be Evaluated before Choosing Display Fixtures for Garments 
Listed below are some of the most important aspects to be considered when selecting display fixtures for garments:
1. Clothing type 
The type of clothing you wish to showcase would be a primary consideration. For example, you wouldn't choose to hang t-shirts on heavy wooden hangers. They would be most suited for high-priced blazers. Similarly, shirts can be folded and kept on racks for display. Suits would have to be hung on hangers. So, your fixtures should be able to support the choice of garments you wish to showcase. It is a great idea to sort out the product categories and then select the fixtures accordingly.
2. Theme 
The overall atmosphere of the store must be taken into account when opting for display fixtures. For instance, if it is an upscale boutique, cheap hangers won't do. So, you would require fixtures which can accommodate heavy ones. Plastic hangers or simply hooks might do just fine for contemporary boutiques displaying trendy wear.
3. Storage space 
Consider the storage space you require for stocking clothes when you buy fixtures. If you would like to display most of the items that you have, you might require more space. There are stores which would choose to put up only representative pieces for showcasing. The actual items are kept in the back storage area and fetched according to customers' demand. Such display ideas would be most suited for stores with limited spaces for display purposes.
Lastly, fixtures should also be safe so as not to damage the garments in any way.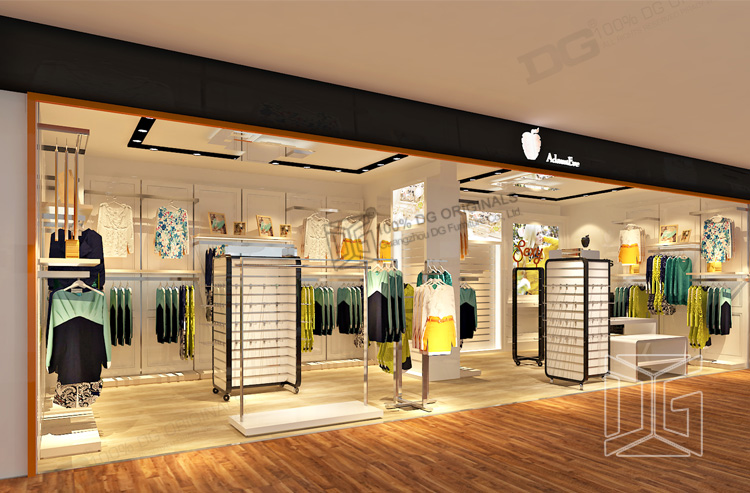 You can buy display fixtures for your garment store from www.degreefurniture.com. This store features are large range of clothing displays, display stands and racks, at very reasonable prices. DG Furniture specializes in manufacturing innovative signs and exhibition displays to offer a novel, custom look to shops.